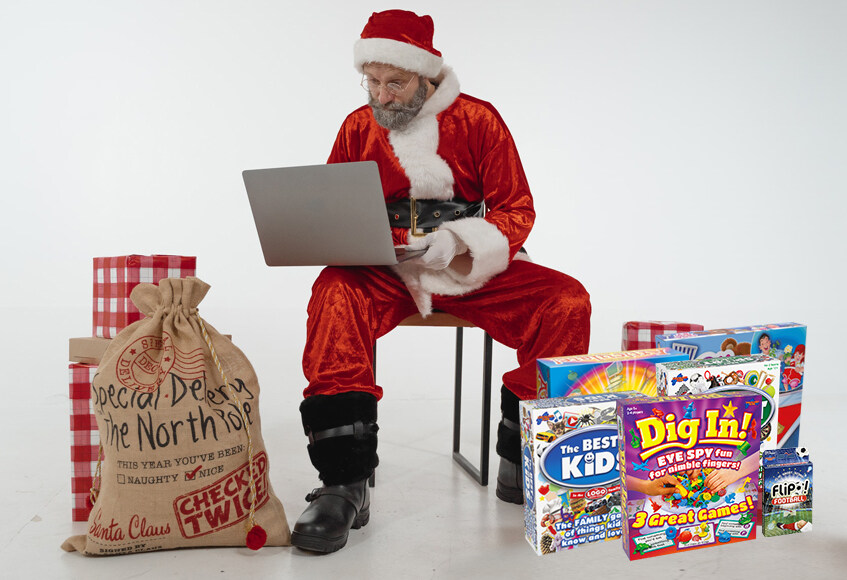 November 9, 2022
Gift guide: Kids' games for a true family Christmas!
The best games bring people together.
This is doubly-true for kids' games, and doubly-doubly true at Christmas!
So, with family visits being planned, and perhaps bigger gatherings that may not have been possible in recent years, we've chosen a particular theme for this year's gift guide: Kids' games that'll also entertain the whole family!
These are games where the younger ones can share the fun with a favourite older relative. Games where they can take charge over the Boxing Day mince pies. Games where they can soundly beat mum or dad… who'll want to come back for another go!
You'll find all of these in good toy and game retailers, at Argos and in all the usual online places. We'll start off with…
>> Dig In
Dig In's a quickfire rummaging-around game, simple for five-year-olds; addictive for adults! It's the sort of game that appeals to kids who love lots of laughs; who like getting stuck in; who basically don't like boring-sitting-still-type games.
Forget 'letting them win' – if it's adults versus children, the younger ones invariably come out on top! And that's always a good recipe for a harmonious family Christmas…
Guide age: 5 and above
Perfect for: energetic kids, who like 'doing'!

Dig In's at Argos: follow this link!
>> Articulate for Kids
A very special kids' version of the classic 'describing' board game that can be played standalone or seamlessly integrated with the original game. So, youngsters can play with older siblings… and all can play with the older generation.
The original 'Articulate' has long proved itself brilliant fun for those harder-to-engage teens – and sets often find themselves spirited away from the family home when the nest is finally flown!
Hundreds of five-star reviews over on Amazon tell their own story – we'll point you towards these!
Guide age: 6-12 years, or older if combined with the classic game
Perfect for: a family mix of younger and older ones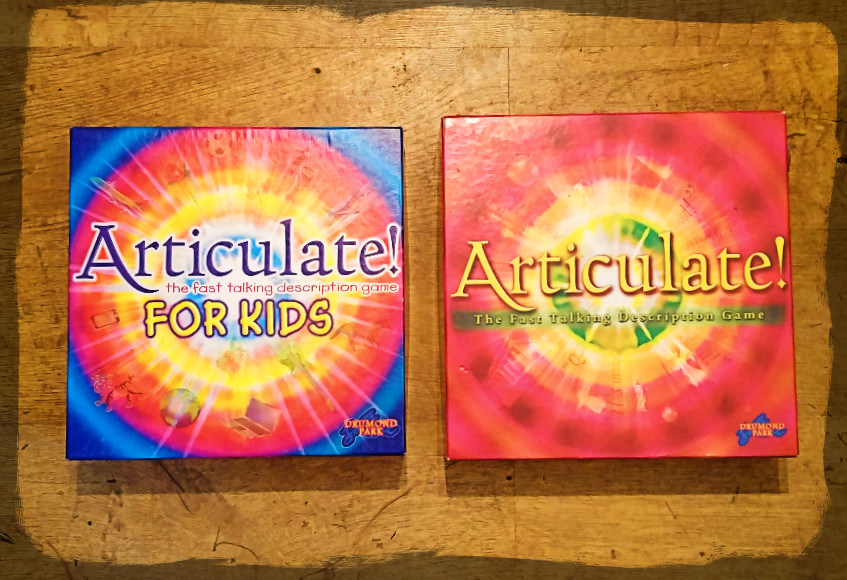 >> LOGO – The Best of Kids
The Best of Kids is a rarity: a proper, grown-up quality, non-childish board game… for children!
Essentially it takes one of Britain's perennially best-selling trivia games, but packs it with over a thousand questions for the primary-school-age range.
It's a team game that's designed to be a great all-round family experience – allowing Grandma and Uncle Pete to be AMAZED at their enthusiastic young team-mates' knowledge!
Guide age is given as 7 years and above; reviews have suggested that younger children who are good at general knowledge could easily be included in this game.
Perfect for: children who like to play quizmaster!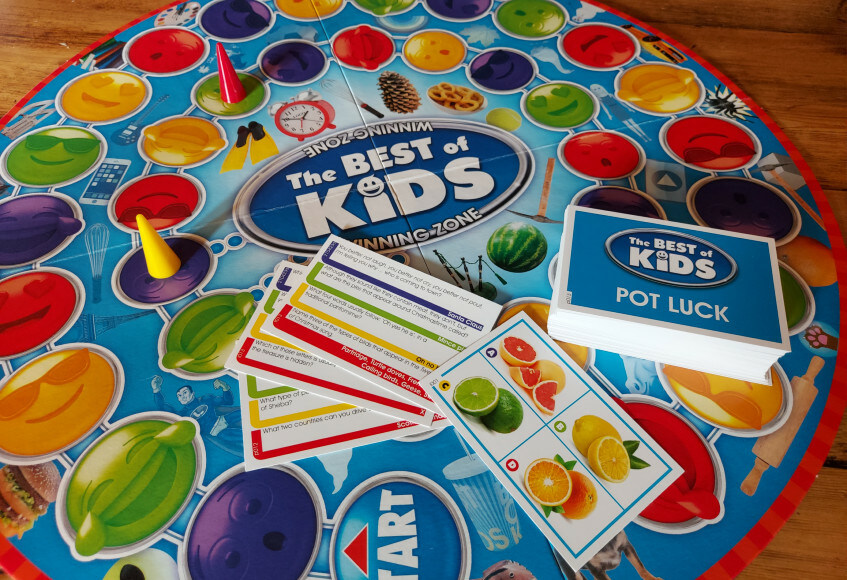 >>LOGO – The Best of Sport & Leisure
More of a traditional family game rather than a child-specific gift… so what's it doing on this list?
Well, every year, Britons spend ££££s on despairing, last-minute gifts for that 'difficult to buy for' member of the family. Often (but certainly not always), this tends to be Dad. You know the sort of thing. Yet another pair of slippers. Novelty socks. Coffee mugs reading 'world's best golfer'.
So, here's a creative alternative that'll prompt some extra family time that everyone'll enjoy – and what better gift for the kids could there be? You really don't have to be a sport-nut to enjoy this… it's all funny and interesting general knowledge with a sport and leisure theme.
Guide age: 12 and above
Perfect for: difficult-to-buy-for-dads!
>>Flip Football
A brilliant stocking-filler for the footy-mad youngster, Flip Football is a two-player card game that invites you to attack, defend, save and shoot!
Play with a sibling, play with a friend from school, play with mum or dad – Flip Football's action is quickfire: as a card game, think 'snap' rather than 'trumps'.
Retailing at a pocket-money price point, it's a great party gift or 'little extra' for under the tree.
Guide age: 8 and above
Perfect for: footy fans and their friends!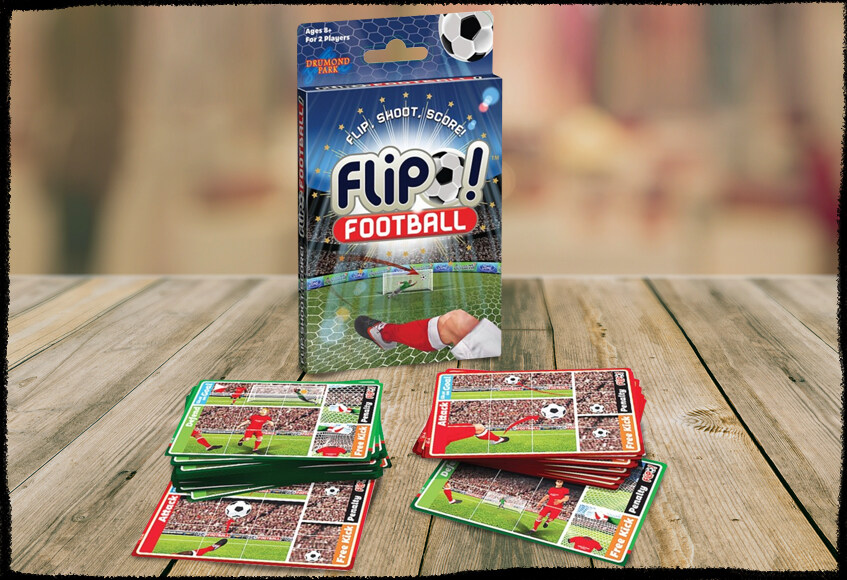 >>Fill Your Pants
This game flew off the shelves from the moment that it was launched, and has been a Christmas smash hit two years running.
It's a very simple idea, and as utterly silly as it sounds. Put on a pair of gigantic underpants and set off round the house, collecting items from the card and stuffing them into your ridiculous attire.
Kids love it, of course – with the bonus that they find it utterly hilarious to watch mum, dad, aunties and grandparents having a go! And it's very clear from social media pics that those grown-ups love it as well! (We even saw a pic of an M.P. enjoying the underpants action…)
Guide age: 6 and above
Perfect for: families who Instagram!
Fill Your Pants at Argos, here.
Merry Christmas - thanks for supporting British board games!!!