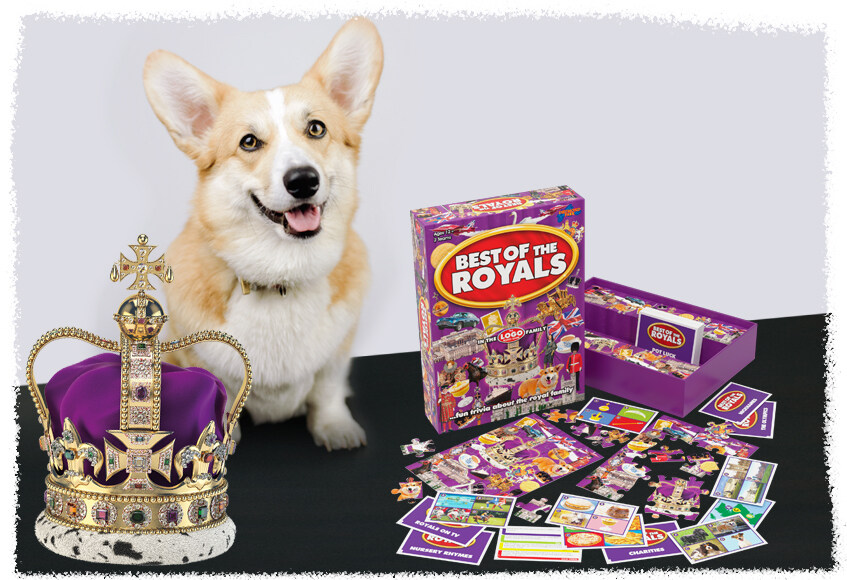 "Party game?!? Woof!!!"
April 24, 2023
From Palaces to Pot Luck - about LOGO's very own Royal party game
It's the Palace-icious, Throne-adelic, Garden-party-tastic team quiz challenge!
So what to expect from LOGO Best of the Royals – the magisterial new Royal party game?
It's here… it's ready to play! We couldn't quite run to a gold-leaf-studded box and real live corgi for the winner – but we COULD come up with 200+ Royal-themed questions and answers, all in that inimitable LOGO Board Game style that you know and love.
So here's what you need to know about the new game.
It's brilliant for parties!
For two teams, aged twelve to one-hundred-and-twelve, and best served with cake, a nice pot of tea, or your Royal-themed tipples of choice. The more the merrier – it's a game for laughing, chatting and reminiscing! Or set the official rules aside, and use the game as the basis for a Royal quiz night!
It includes a jigsaw!
TWO jigsaws, in fact – and Royal ones, to boot! They're not especially PUZZLING jigsaws… but we wanted to provide an unusual and original way to score the game!
Remember that?
Events, encounters, and those famous quotes and off-the-cuff remarks that made the headlines. From the present-day back to life during the reign of our late Queen Elizabeth II.
It's got questions about EVERYTHING!
There's food - King Edward potatoes to Victoria Sponges! TV and film appearances and portrayals! Dogs, cars and sport! Even royalty in nursery rhymes! Just like every other LOGO board game, it's all that random knowledge that you've soaked up over the years…
TO SECURE ONE OF THESE NOBLEST OF ROYAL PARTY GAMES…
…You'll need to send your butler along to The Entertainer, Selfridges, The Range, Next, WH Smith or Amazon.
Phew! Now get on with organising your celebrations!