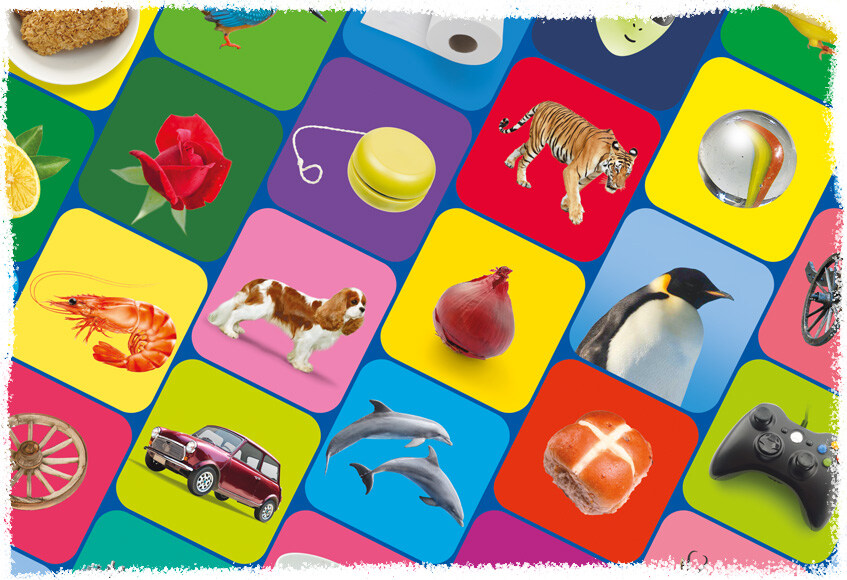 September 22, 2022
New for 2022 – it's LINK LOGO!!!
New general-knowledge-picture-themed LOGO action in a COMPLETELY DIFFERENT format!
What to say about Link Logo, just heading to the shops as we speak…?
Well, it builds upon some of the best bits from the classic LOGO Board Game that you know and love.
(The ones you tell us are the best bits, anyway. Those picture cards, for instance.)
It asks you questions. Not obscure, specialist-knowledge geek conundrums. But typical LOGO-style everyday 'on-the-tip-of-my-tongue-gaaah-I-should-have-known-that!' type questions. The sort that you have a good old laugh about afterwards, before going into a ten minute discussion about what actually WAS your favourite chocolate bar, and why it was a travesty when they changed the packaging back in 1992.
And, more fundamentally, it asks you to work out the LINK between the pictures. Six apparently random images… what connects them? A word? A colour? Are they all makes of car..? Shapes…? Tropical vegetables..?
What about that 'completely different' format? Well, Link Logo doesn't come with a board. Instead it offers you an intense face-to-face challenge, as you set up the special flip book between you, battleships-style, on the table*. So there are plenty of opportunities to peer intensely over your spectacles directly at your opponent, attempting to make them laugh whilst they try to think. You can play in teams, or as one-on-one.
If you want a teaser, we've an example question card for you (click 'try me' on our Link Logo page here) – and you'll find the game in all the usual toy and game retailers well in time for Christmas!
(*Kitchen table, living room table, table in the pub or a café – it's a perfect game for taking out and about!)