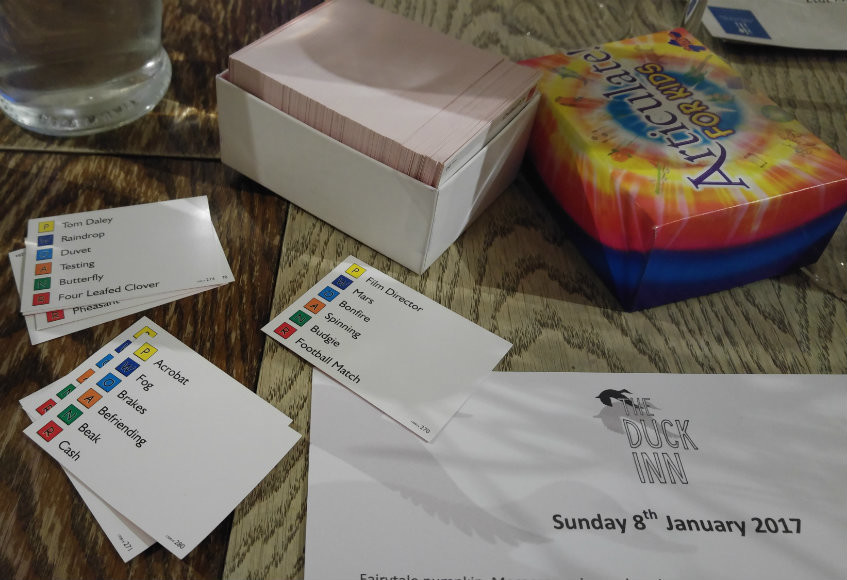 A game in progress at our... er... testing facility
February 16, 2017
Articulate for Kids: tips for parents
Articulate for Kids is just that… Articulate. But for kids.
The graphics are a tiny bit more child-centric, but aside from that it's very similar to that perennial game that you know and love. A grown-up children's board game, if you like.
The main difference is that it features far simpler, kid-friendly topics. We took great care over this, bringing in an educational specialist to ensure that the cards were right for 6-12 year olds, appreciating the wide range of abilities in that age range.
Setting up any children's board game requires a bit of parental input to a greater or lesser extent, so we've put together a few tips to help you introduce your kids into the fast and funny world of Articulating – especially if they're at the younger end of that scale.
Before you start the game, try a dry run with a few cards to demonstrate the concepts. Children are great 'guessers'; it might take a couple of tries for them to get their describing skills going, especially if this is their first experience with this sort of grown-up board game.
The 'official' rules are very simple, but don't be afraid to introduce variations, especially if there's a mix of ages. You might decide that the younger ones can 'pass' on an unlimited number of topics, for instance.
Or you can turn the timer when it runs out, to give younger children twice the time.
To make the game less frantic, you can put a limit on the number of cards that can be described each turn. This'll give everybody a chance to hone their skills without feeling under pressure.
Don't forget that the kids' cards are fully compatible with the adult board game – so you can mix and match, and have fun together on a level playing field. Children love feeling important, so let them play with the grown-ups.
We've seen time and time again that the younger kids love demonstrating how good they are at describing. ("It gets their brains working!", as one parent tweeted us over Christmas). Even if you don't have time to get out the board for a full game, take the box of cards with you to grandma's or Auntie Jean's and let the children show off their skills. It's fascinating, and very funny, to listen to them.
Or do what we did when we took these photos, and take the cards to the pub, to keep everybody occupied and entertained whilst a sumptuous Sunday roast was on the way. Articulate and roast beef? Oh yes, please…