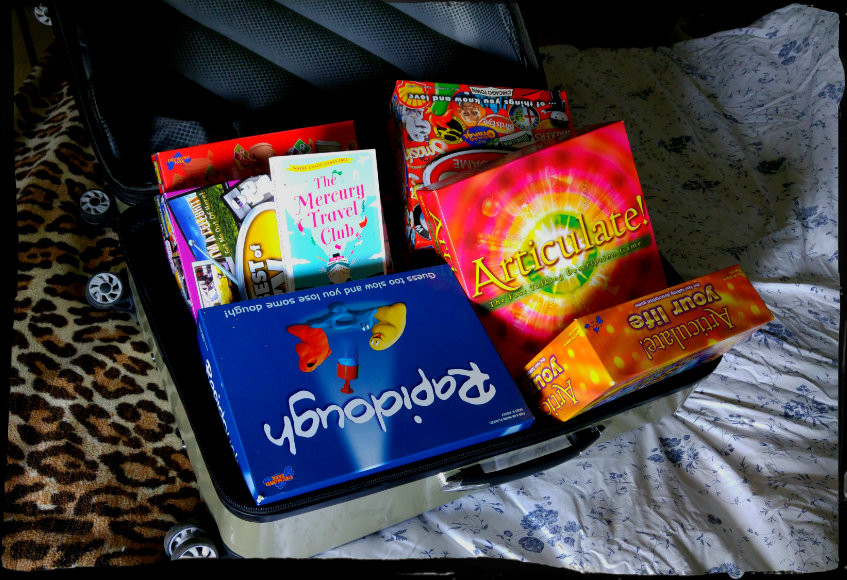 August 1, 2017
A board game getaway – with author Helen Bridgett
Author Helen Bridgett hit comedy gold this year with The Mercury Travel Club, her feel-good tale of one woman ditching the sensible life and taking a rather startled post-divorce bull very much by its horns.
'Perfect summer reading' purred the reviews, and we agreed, alternately laughing and cringing as heroine Angie took the plunge into her new business venture: themed getaways for a gang of regular travel agency customers (and, dismayingly, her ex.). 'Where chaos comes free' is the travel company's motto, and it's true that nothing quite goes to plan…
Anyway – 'themed getaways' got us thinking. Summer's upon us, so we asked Helen Bridgett to put together a very special Mercury Travel Club board-game-themed package holiday for us.
Helen, we have a suitcase full of board games and a vast budget (*gazes nervously at Finance Director*). Where would be good to go? Somewhere nice where folk could potter around during the day, before meeting up for Articulating and Rapidoughing into the small hours?
Helen's destination choice: Italy!
"Angie and her best friend Patty do enjoy partaking in the local customs - I mean cocktails - of wherever they visit, so let's head to Italy and look forward to an Aperol spritz before the games begin. Perhaps we'd have a cruise around the coastline, stopping off on the Amalfi coast and re-enacting some scenes from Roman Holiday - who knows we might even find our very own Gregory Peck?
Patty does rather fancy herself as a Game Hostess so I can definitely imagine her gathering everyone together in the evening for a Catchphrase tournament, "Say what you see," yep - I can see her practising it now, it's going to be a fun night."
Roman Holiday? Great plan, and that reminds us - we keep meaning to edit Wikipedia to include Audrey Hepburn's legendary fondness for playing the Catchphrase board game. Your characters have a bit of a weakness for karaoke - maybe we could fit in a bit of a sing-song between rounds? What sort of music soundtracks a Saturday night in the Bridgett household?
Helen's music choice: Eighties!
"Oh yes - they love their karaoke and being 80s girls - that era of big hair and bigger shoulder pads they're particularly partial to a bit of Madonna or Cyndi Lauper. As for the Bridgett household - well my husband would probably be hiding behind the sofa cringing whilst I belt out a few rock anthems like Livin' on a Prayer. Everyone ready? Come on then - "Whoa-o we're half way there-e..."
So for catering, given the eighties theme, are we looking at Nouvelle? Pernod and black? Erm... Soda Stream?!?
Helen's catering choice: Tapas!
"Hmm - there are definitely some things from the eighties you wouldn't want to revive and the food is probably one of them. This is the decade that launched Pot Noodles, Lean Cuisine and Potato Waffles...
The Mercury Travel ladies like things small and tasty so for once they're up to date and loving their tapas (washed down with some rioja obviously!)"
But one thing concerns us. That is, the Mercury Travel holidays have a pattern of - umm - chaotic outcomes? But of course we're only talking about a simple trip for us board gamers. What could possible go wrong...?
"Chaos does seem to follow the team around the world. But they tend to be more misadventures than mishaps and the customers always seem to enjoy them. I can imagine on this trip we might find that some unscrupulous collector had stolen the famous "uh-oh" buzzer from Family Fortunes and the Mercury Travel Club would have to improvise? Patty could definitely lead the audience in doing a very loud and enthusiastic impersonation of it every time one of the contestants picked an incorrect answer…"
(Editor's note: the Family Fortunes "uh-oh" buzzer is without doubt the most popular prop in any of our games. Use it round the house! Take it to work! Endless hours… etc)
The utterly fabulous Mercury Travel Club is out now at Waterstones, Amazon and all good bookstores. Thanks Helen, and bon voyage!