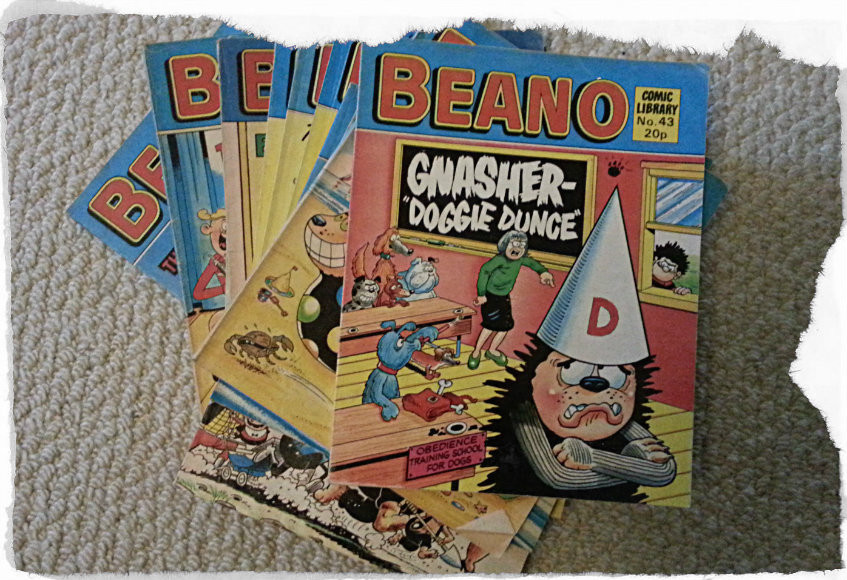 January 28, 2016
Gnasher: Undisputed Best of British dog
Gnark-gnark! *wink*
If we were challenged to select one Best of British superstar from the dog fraternity then it wouldn't be tough.
Respect to Shep, Petra and Goldie: standouts amongst canine Blue Peter anchors. Timmy the Dog provided outstanding service to the Famous Five; kudos to Spit, Digby the Dulux Dog, Bulls-Eye, The Hound of the Baskervilles and The One That Didn't Bark in Night in the Other Sherlock Holmes Story, Fred Bassett, Pudsey (despite the film), Black Shuck – both the legend and the Darkness song – and Fanny the Wonderdog. We'll stretch the definition to include K-9 on that list, even though he was pretty feeble as a plot device and caused all sorts of ongoing problems for Tom Baker's knee joints.
But there's only one winner. The Beano's Gnasher has terrorised the posties, softies and assorted authority figures of Beanotown since 1968, when he was introduced as a companion for everybody's favourite yobbo and hooligan, Dennis the Menace. Other characters have come and gone, and he's survived various Scrappy-Doo-like additions to his personal universe, but Gnasher remains, both daft and terrifying, one half of a classic British double act.
For more than half a century, Gnasher has convinced youngsters that having a dog would be the greatest fun in the world, ever ever ever; that a four-legged companion might prove a best mate and co-conspirator rather than a simple family pet. He showed them that even the terriblest tearaways thrive on the love and affection of those closest to them; that thrills, escapades and life itself is at its best when its shared with another. And that everybody should periodically add a silent (or gnot-so-silent) 'G' to all your words that would otherwise begin with a conventionally boring 'N'. That last bit's important.
So we at Drumond Park, Beano-enthusiasts and proud manufacturers of iconic British games such as Absolute Balderdash, LOGO Billionaire and Deal or Gno Deal, invite you to raise your glass (or at least lay down a bowl of water and a nice bone) for Gnasher, fittingly celebrated in the Best of British board game. Cheers!
(Reader's voice: Don't forget to mention that all these are available from all good toy and game retailers! Arf!)