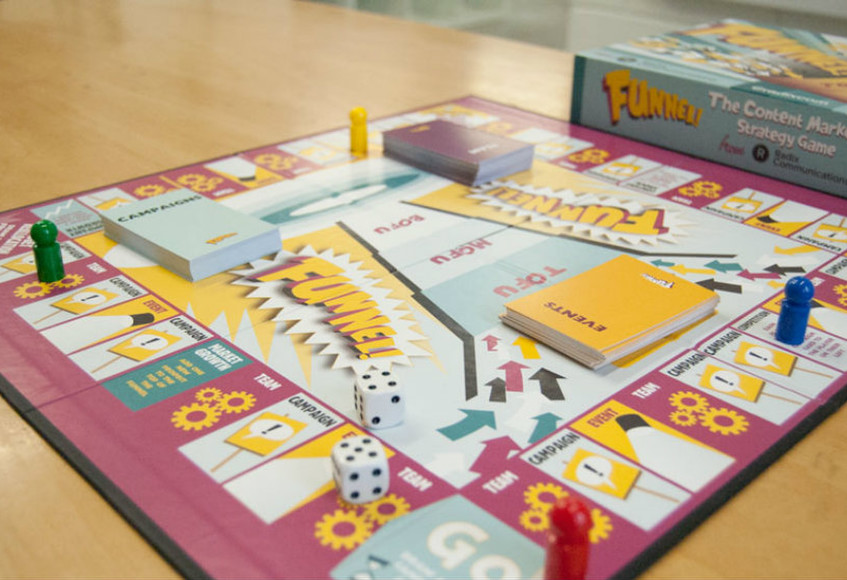 Funnel. "Hang on, Drumond Park... that's not one of yours!!!"
August 15, 2016
Funnel: how one company built a board game as a promotional marketing tool
Corporate gifts. Pens. Branded paper bags. Mouse mats. Personalised stress balls. A logo-bedecked end-of-year diary.
All lovely, but hardly very original. So when we heard about a business that had created an entire board game as a promotional giveaway for its clients, we were intrigued. Especially given that we know how difficult it is to develop a game that works, produce it to a top quality standard, and keep those production costs down.
So here's the story of Funnel. This is a longish post – but if you have a business yourself and think: 'that might be a good idea!' then it's a thought-provoking case study.
First, the company behind it. Based in Cornwall and with a very solid reputation in their particular niche, Radix Communications writes and markets content for technology firms. Blogs, infographics, tweets, white papers – whatever it takes to get a message across. Not very board-gamey so far – so when we chatted to Steve George, who co-led the project at Radix, our first question was naturally: "why not just give your clients a biro?" Here's what he said…
"As content marketers, we're very familiar with the value of doing something a bit different. If you can offer something unique and valuable that stands out, people sit up and take notice — and remember it. Our clients might have dozens of branded pens strewn over their desks, but I bet there isn't more than one content marketing board game on their shelf.
The fact that we were willing to do something like that conveys a very important message in itself. By creating a game, we didn't need to rattle on and tell people that we are great at what we do; we showed them. The game tells people that we're creative, innovative, smart, brave, and it does that all before they've even opened the box!
The 'stick around' factor was very important too. Pens, bags and other traditional promotional items are all extremely easy to discard without a second thought. But, when you're given a specialist board game that's of shelf-worthy quality, you'd probably feel a little uneasy about condemning it to the bin. This is a lasting asset, it's a conversation starter for us today, and a conversation starter for the recipients for hopefully years to come.
The final reason is perhaps the nearest to my heart. Many of us here at Radix are shameless geeks. We love board games, we've played them extensively, and we have such deep knowledge of their mechanics that we just fancied making one of our own. Funnel wasn't built to just be played once for novelty. We tested the game extensively to make sure that it was a balanced and fair experience that could be enjoyed by all, again and again. That process was hugely satisfying for our inner (and outer) nerds."
'Shelf-worthy quality' was the phrase that leapt out at us from this, and it's spot-on. Retailers' requirements aside, one commandment for us here at Drumond Park is that the overall quality of a game has to be such that people will be proud to give it as a gift. A successful game has to be a beautiful, substantial item. So we asked Steve to tell us about the process – how did they get on, and what did they learn?
"We first thought about what we really wanted people to take away from playing it – the key messages that we wanted to get across. The process started with meetings where everyone could pitch ideas for game mechanics, which eventually came together to form a core game concept, which turned into a pen and paper prototype.
By playing this prototype, we quickly got a feel for what worked and what didn't. As we refined the mechanics, we started to think more seriously about the logistics, sourcing a manufacturer and an illustrator that could help bring the concept to life.
The main thing we learned through our testing was that it was very easy to make a complicated game. We had no shortage of ideas for concepts, but as we tested them, we soon realised that the game was becoming very complicated. That brought about a new task: deciding what to cut.
I think we all gained a lot of respect for the board games we love. The balance between strategic depth, fun, and accessibility was hard to strike, and was without a doubt the biggest challenge of the entire creation process."
'It's easy to make a complicated game' gets a big nod of recognition from us: our own development meetings at Drumond Park can be brutal affairs as we wield the axe on our colleagues' cherished ideas. So how did the finished product go down?
"The game was really well received by our clients, and also by people that we wanted to open up conversations with. We got a lot of great feedback through Twitter, from pictures of people playing the game at work, to nods of approval and kudos on the idea from some major players in our industry. Most importantly, from what we can tell at least, most of the people that received the game have kept hold of it – which was one of our key aims.
We would love to do something similar again, but the idea behind the project was to do something very different, so perhaps next time we'll have to think of an even more unusual piece of content to create! What we had hoped was that the idea might inspire one of our slightly 'braver' clients to put together their own board game, and that they would enlist our help in creating it. Unfortunately that has yet to happen, but we're keeping the dream alive!"
Producing Funnel wasn't cheap, but Steve's convinced that it was cost-effective: he likens its impact to that of a conventional marketing campaign running into a five-figure budget. There's a thought if you're in business – would this sort of thing work for you? If so, then we wish you the best of luck – and if you need the help of Steve and his colleagues then we're sure they'll be pleased to talk. Their website's at radix-communications.com; thanks to them for their time in talking to us.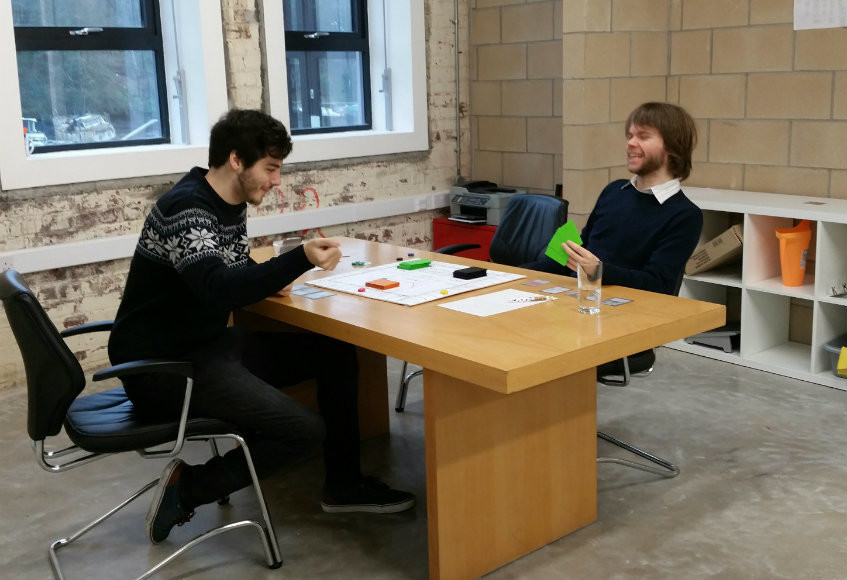 Steve and colleague playtest the prototype. Blazing rows not pictured.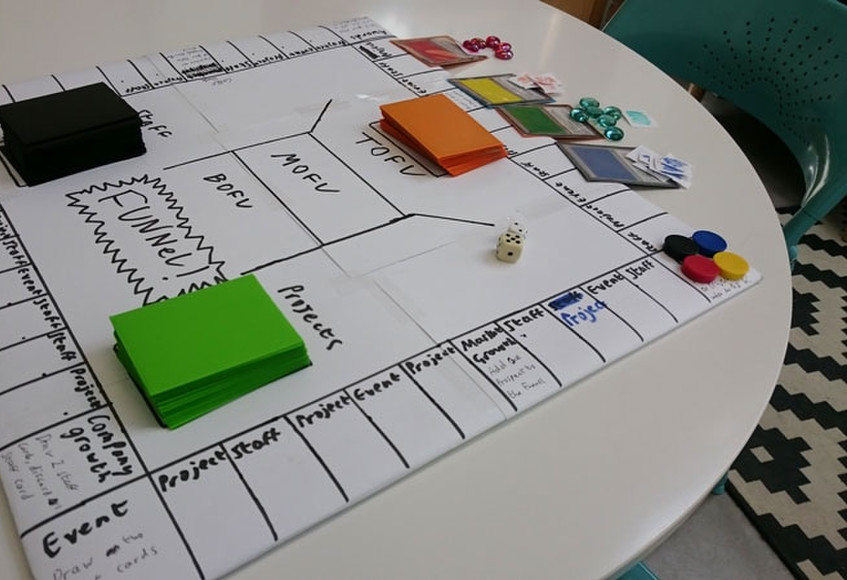 The Funnel prototype - this is how all good board games start...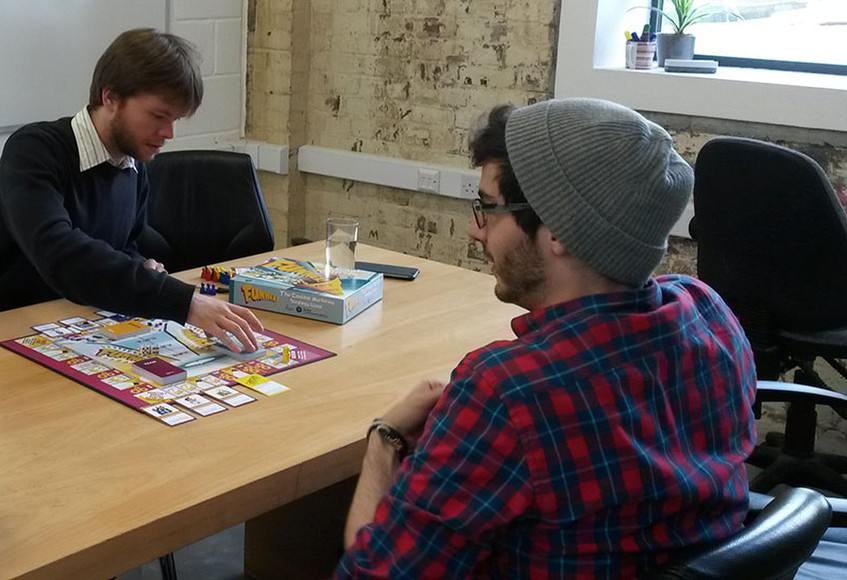 First play-through of the final product - a great moment for any game designer.