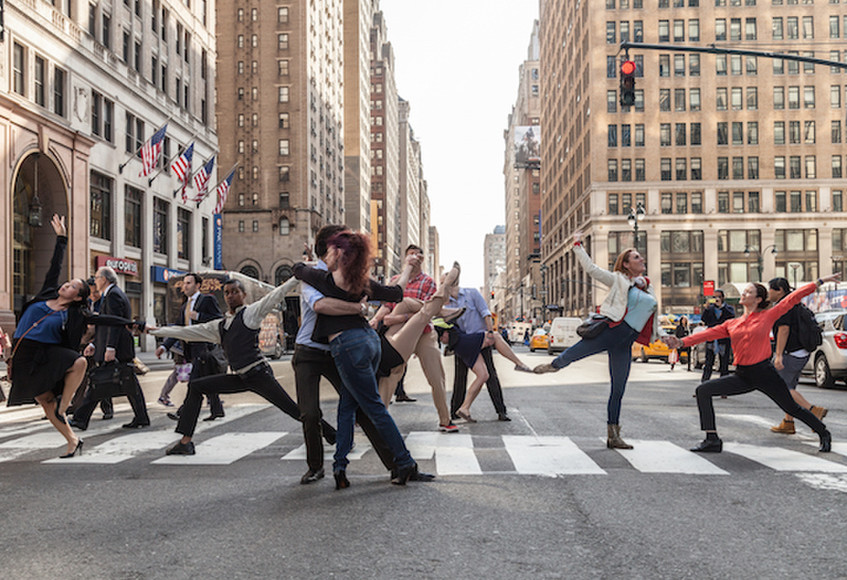 Improv Everywhere: The Ballroom Crosswalk
Picture credit: Improv Everywhere
July 15, 2016
Things we love: Improv Everywhere
Why we love the Internet, part 495765.
We found this bunch via YouTube (of course). Improv Everywhere are based in New York and they… well, this is where we tail off.
Describing themselves as a 'comedy collective,' they stage unauthorised and elaborate stunts in public places across the city and further afield; these are structured yet unscripted, and can be very funny. 'Pranks' is the wrong word; they're very specific about wanting to entertain people without making anybody look foolish.
It's probably easiest if we show you one. So here's the Time Travel Subway Car – in which they got together four sets of identical twins to act out a scenario on the NY Metro…
Clearly a lot of work for a live audience of perhaps fifteen people. Fascinatingly, they write up each 'mission' – click through to their site to read about the thinking and planning involved. And to get some tips, if you were thinking about staging the same sort of thing on the Tyne & Wear Metro…
The Time Travel Subway Car is just one of many such escapades featured on the site – so why not take the afternoon off to have a browse through them? Alternatively, perhaps you should head down to your local zebra crossing to recreate the Ballroom Crosswalk, our absolute favourite.
Watching this makes you feel good to be alive...