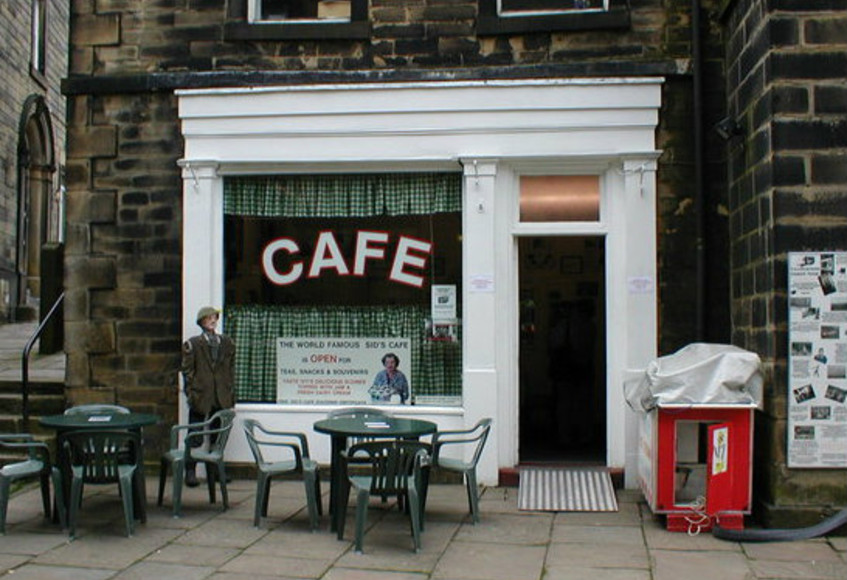 "I'll have the quinoa salad please, but hold the sun-dried tomato jus"
Photo credit: Sharon Leedell [CC BY-SA 2.0 (http://creativecommons.org/licenses/by-sa/2.0)], via Wikimedia Commons
September 4, 2015
Best of British icon: Last of the Summer Wine
(Or: 'Why we love the Summerwinos')
First airing in 1973, Last of the Summer Wine became the world's longest-running situation comedy. Audiences of up to eighteen million enjoyed the interplay between a trio of elderly adolescents and their supporting cast as they pottered around the Yorkshire Dales prior to Bill Owen being pushed down a hill in some variation of a bathtub.
#LOTSW, as it would have been known on Twitter, was often criticised for its very gentleness, was an occasional presence in 'shows we'd most like to see cancelled' polls, and by the end was definitely, irredeemably uncool.
Or was it? Perhaps it had outstayed its welcome, but those stratospheric viewing figures never dropped to anything less than very respectable. Familiarity breeds contempt, and there was no TV show more familiar. But with a little distance, let us now see it for what it was – a consistently well-written (occasionally brilliantly-written) slice of British sit-com packed with fine performances from some of this nation's most accomplished comedy actors. We like it, and we're PROUD.
If it's time for 'Wine' revivalism, nobody leads the way more than radio presenter Bob Fischer and film-maker Andrew T Smith. At their site summerwinos.co.uk, they document their project to watch all 295 episodes of the show, in order, from the start. It's a mind-boggling undertaking – they've written thousands upon thousands of words already, examining episodes scene-by-scene and digging under the skin of each character to discover what made them so loveable and – well – so utterly human.
We'd previously heard of Bob Fischer via his brilliant memoir Wiffle Lever to Full!
, in which he recounts tales from his visits to various cult sci-fi TV conventions, exploring his obsessions with the genre and with fandom in general. An extensive and very genial interview with stuntman Stuart Fell on the summerwinos site squares this particular circle: Stuart Fell worked regularly on Dr Who and was the long-term stunt-double for the 'Summer Wine' cast.
Will the show ever return? We hope so, as we'd like to think we might one day witness an elderly trio of Frankie Boyle, Michael McIntyre and David Mitchell (being pushed down the hill in a bathtub). Truly, truly a BEST OF BRITISH ICON.