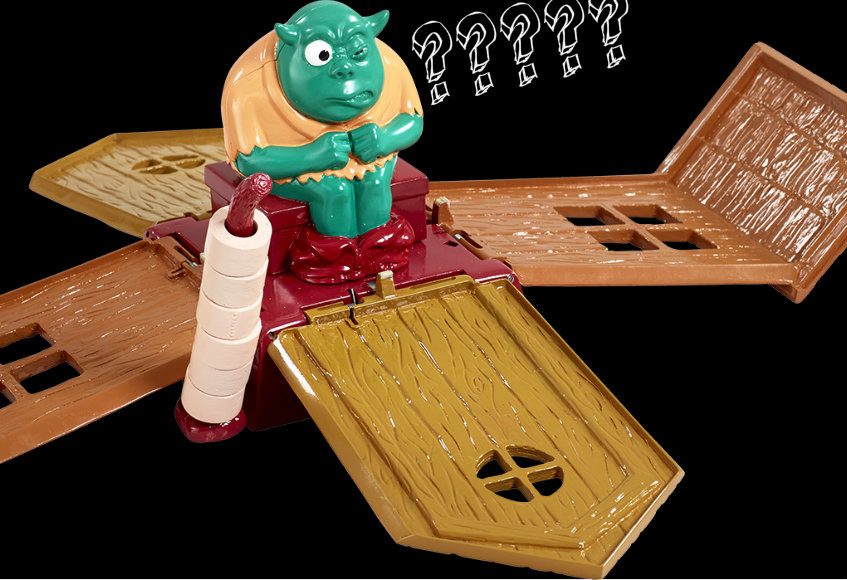 August 14, 2018
Og goes to Primary School
A bit of an unusual job for us last month – we were asked to go in to a primary school to talk to some children about writing.
'Writing?' you ask. Yes, writing. Because a lot of our job involves coming up with words. Instructions. Trivia questions. Scripts for TV ads. And, of course, the exciting-yet-scrupulously-honest blurb that we put on the boxes to make people want to buy our games.
We were very happy to, but felt we needed a bit of a survival strategy amidst the onslaught of a boy-dominated horde of 7 & 8 year-olds. (Honestly, we thought that we couldn't admire teachers any more than we did… but this was our own re-education as to how difficult that job is…)
So we took along Og on the Bog, which is always a crowd-pleaser with that demographic. And the kids were great! They listened, and they took things in, and they asked lots of questions. Often all at once.
One of which was: 'Have you thought of writing an Og on the Bog book?'
Golly. This threw us a bit. As did the immediate chorus of 'yeah!' and 'brilliant idea!' and 'I would so read that!'
We hadn't thought of it, no. But it prompted a huuuuge and enthusiastic discussion amongst the kids about how this might pan out, and what the plot might be, and how the characters would be introduced, etc. And we were blown away, because we know that it's so challenging to engage (particularly) boys with books and reading in the face of the distractions of the modern world.
Anyway, by the end of the lesson we'd stopped talking completely and retreated to the back of the classroom whilst the kids used their imagination to work out storyboards and the like.
(We did sadly veto one title suggestion, however: 'Og on the Bog Squeezes One Out'. Thank you for your contribution, Sam.)
Back in the Drumond Park office, we dug out the original game graphics and emailed them over to the school so that the kids could incorporate them if they wished. They spent the last couple of days of term working on their individual stories – if they share them with us, then we'll share the best with you…
A great morning for us, and lots of food for thought. If you're a teacher, TA etc. and this might strike a chord with your class then let us know (blog@drumondpark.com) We'll happily share those game graphics, and might even have a game knocking around the office that you can use - if you promise to let us know how you get on…