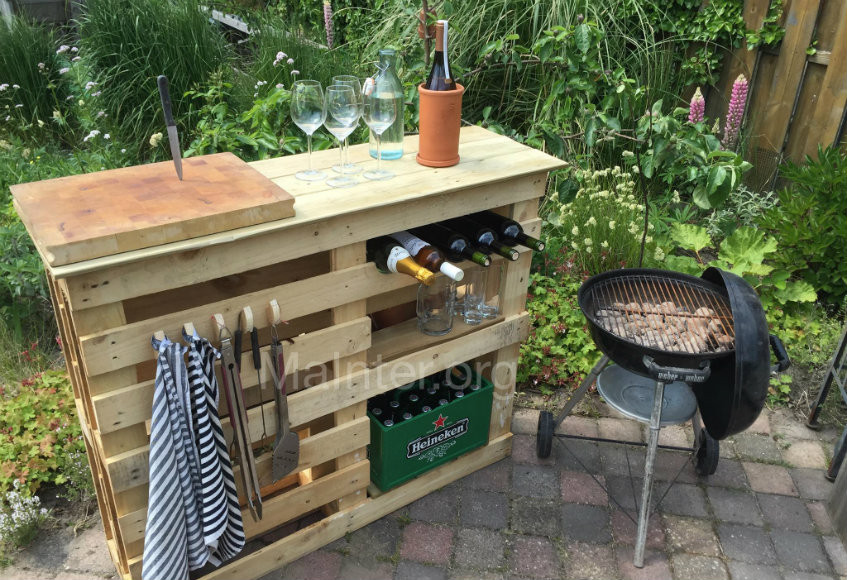 Photo: Mark Bakelaar/Malnter.org
November 11, 2015
Things we love: 1001 Pallets
We found '1001 Pallets' via Dutchman Mark Bakelaar's so-cool-it's-untrue barbecue side table, which he handmade from a couple of old pallets and some boards. Mark posted this photo publicly on Facebook and it got about five grillion shares, so we're clearly not alone in our admiration.
Anyway, it led us to the cornucopia of upcycled design which is the 1001 Pallets website. This isn't simply a gallery of amazing images; it has pretty well all you need to know in order to get started at making such items yourselves, from free tutorials to safety guidance. Essentially, if you have a free afternoon and an old pallet then head over there now and start knocking yourself up a wine rack.
If you have a little more time, then just IMAGINE the AMAZED expressions on your guests' faces when they turn up for your next games evening and everything in your living room, LITERALLY EVERYTHING, is made from upcycled pallets.
Anyway, it'd be impossible to choose our favourite item from the mass of imagination and ideas on the website. We loved the chicken houses; some of the furniture is quite brilliant, but our ultimate vote goes to Adrien Charbonnel's Fairy Tale Kid's Pallet Hut.
We'll leave you to take a long old browse through the galleries. Oooops – there goes the afternoon!