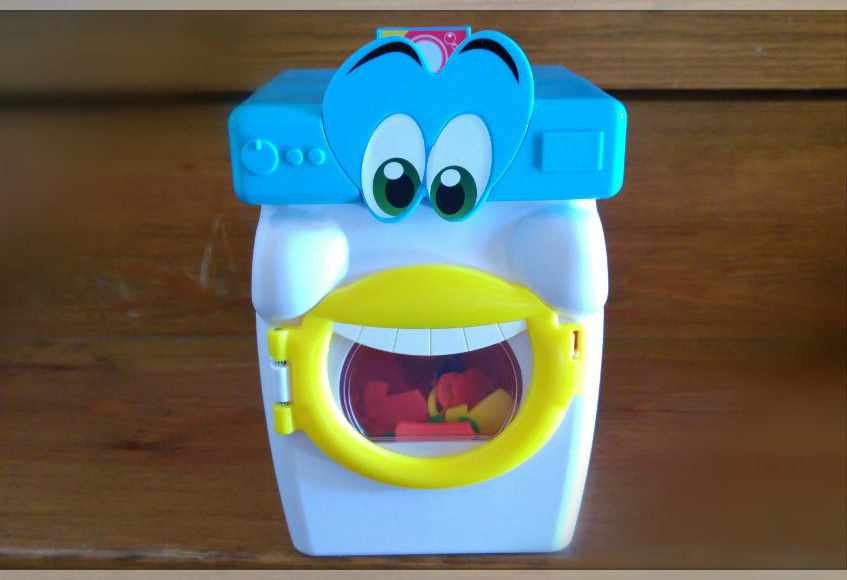 Wally: not one of life's pessimists
September 27, 2018
Who's got that smelly sock…?
Wally the Washer
Family visit alert!!! An occasional series to solve your 'Help! How will we entertain them?!?' emergencies.
This one's suitable for: ages 4 and above. And it's for 2-4 players.
We love a bit of cheerfulness here at Drumond Park. And Wally's the most cheerful washing machine we've ever known. On cheerfulness levels, he's right up there with Colin the Coffee Cup, from Pandemonio. And that's pretty cheerful.
Wally the Washer has proved a bit of a hit with primary-age toy fans. Washing machines have always held a fascination for younger kids – the lights and buttons; the hypnotism of watching dad's pants going around, and around, and around…
This washing machine does go around and around – and it does include pants! Alongside a laundry-load of other items, all set to be hung on the little ones' washing lines.
And a special clothes peg, to put on your nose. Because what kid won't laugh themselves crackers at the sight of Auntie Sarah with a clothes peg on her nose? It prompts ample opportunity to speak in silly nasal voices as well…
This game's incredibly easy to set up and play, and won't take up too much room on the end of the kitchen table. You'll need to put the batteries in, but after that it's over to them.
And although it's a gently competitive game for two players and over, we suspect younger children will be quite happy to settle down with Wally on their own, to do some 'washing practice'.
In the shops now! Requires batteries, but not fabric softener.