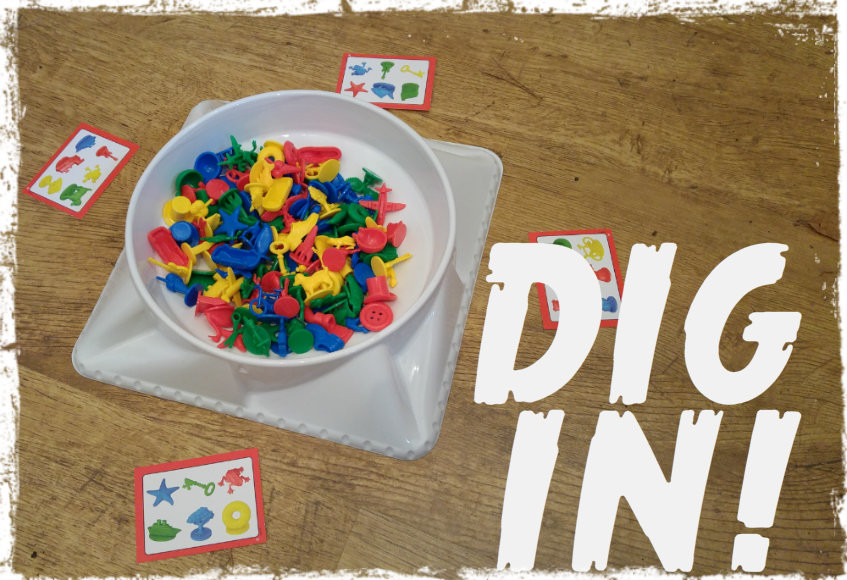 March 3, 2017
Dig In – it's frantic. Really, really frantic.
Family visit alert!!! An occasional series to solve your 'Help! How will we entertain them?!?' emergencies.
This one's suitable for: ages 8 and above. But see the note below...
Ok – we'll say this right at the start: this isn't the game to calm them down before bedtime. It is lots and lots of fun; a good use for surplus energy.
How to describe Dig In? Well, it's a little different. It's a blindingly simple concept, incredibly addictive, and a piece of cake to set up. The instructions and rules are as uncomplicated as they come – you really will be able to get the kids playing together pretty well straight away.
Take a deep breath, start the timer – then go all-out hammer-and-tongs rummaging through the Dig It pieces to find the six that you need for your set. It's challenging enough by yourself – let alone in the final round, where everybody is all-in delving around in the same bowl together.
The game's for two to four players, although the timer element means that it's easy for a single child to challenge themselves whilst you get on with cooking their tea.
So that 'age 8 and above' thing. Although Dig In's marketed primarily as a children's game, it's also been a bit of a hit with groups of grown-ups. So when the kids have disappeared once more, it might be one to take into the office…