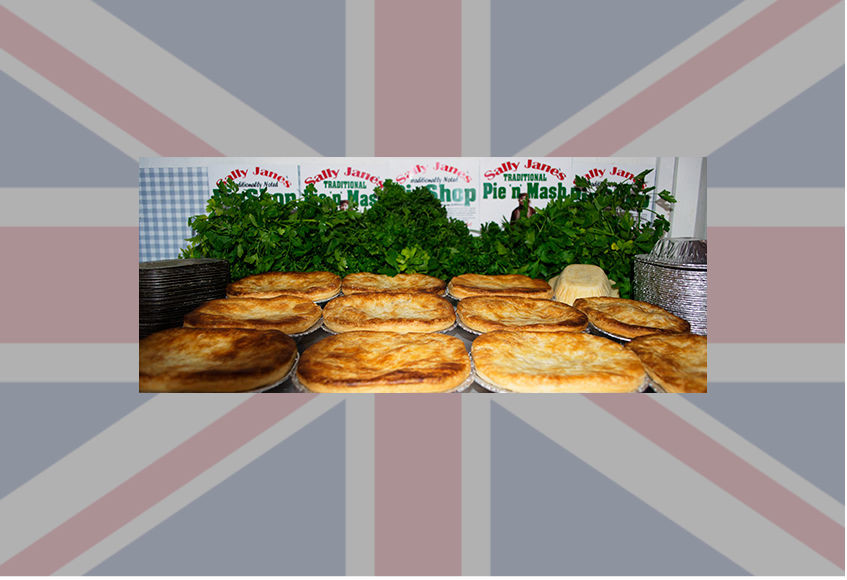 Best of British Pie!
September 29, 2016
Pie and Mash! Themed games evening #3
You're in the hosting hotseat once more. You set the bar high with our Portugese theme suggestions last time round. You've recovered from your ciders-of-the-world night. Where do you go from here?
Here's an idea closer to home: a London Pie and Mash evening.
Not just any old pie and mash, however. We're talking the real deal: a traditional Londoners' feast of pie, mash and parsley liquor; a staple from Victorian times until the post-war era, when the docks fell upon hard times and the core pie-loving working families followed the emigration of the factories from the capital. Great comfort food with history behind it; a real talking point for a group of hungry board-gamers.
To make it extra special, let somebody else do the work.
Sally Jane has a rare thing in this day and age: a genuine pie and mash shop. From the eastern port town of Felixstowe, not too far from our own offices, her pie and mash by post business dispatches hearty fare across the UK – from the far Southwest up to the Orkneys, believe it or not. This is no mass catering: on top of the flavours, she's a stickler for historical accuracy and painstakingly crafts all her pies by hand the traditional way (including her own cold water mix pastry).
The guestbook in her shop is revealing: customers come from far and wide. As well as a new raft of pie and mash fans, there are some poignant comments from an older generation who had assumed that this food had been lost to them for good. 'I've come home – thank you,' was one that caught our eye, left by an elderly gentleman who had spent his childhood in London's East End.
The pies arrive ready-cooked via overnight delivery: pop 'em in to warm up whilst you play that first round, and - ta-daaa! - dinner's sorted. If you want to make your own mash then you're free to skip that option, although Sally's happy to share her recipe with customers if you want to maintain the authenticity.
To crown the occasion, she'll supply stewed or jellied eels as well. All at http://www.sallyjanespies.uk/index.php
Once you've unpacked the pies, keep the theme going with a few appropriate drinks: how about a good old bottle of stout or London Porter to whet the appetite? And, of course, there's no more London tipple than a hefty shot of gin...
Naturally, your opening board game has to be 'Best of British' (and we are very, very happy to give Sally Jane our Best of British seal of approval several times over). In the spirit of tenuous connections we then suggest 'Rapidough' because... well, dough... pies... etc. In fact why not start with an extra round and model your own pie and mash? (Send us a pic if you do).
Music-wise, you have your choice from a million grillion bands old and new associated with London – why not ask each of your guests to bring a few tracks? This is assuming you're not planning a knees-up around the piano. We've written before about the greatness of Chas 'n' Dave, and it would be too much of a cliché to sign off with them, so here's a lesser-known act with London in their bloodstream: the great and sorely-missed Animals That Swim.