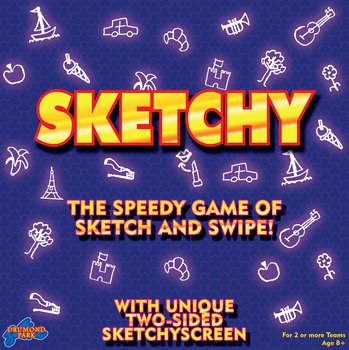 sketchy rules
Assemble the Sketchyscreen
Assemble the handles and card holder of the Sketchy unit as shown in the PDF.
Aim of the Game
The first team to score 30 points by sketching and guessing words on the game cards is the winner – decide on a larger number for a longer game.
Sketchy Cards
Each Sketchy card is double-sided.
The drawing player sees – a list of six items they must sketch.
The guessing players see – a BIG HINT about all items on the card.
Preparing to Play
Place the cards in a handy pile. Players divide into two teams.
The team with the youngest player goes first. Decide which team member will be the first SKETCHER, the rest will be GUESSERS.
Each team member must take their turn at being the SKETCHER during a game.
The SKETCHER draws on the side of the screen that has the "swipe clean" handle at the base of the screen.
Playing the Game
The SKETCHER picks up a card from the pile and inserts it into the card holder on top of the Sketchyscreen. The SKETCHER should see the side that was face down on the pile.
An opposing player turns over the timer and the SKETCHER starts to sketch the first word on the card.
Once the team has guessed it correctly, the SKETCHER quickly slides the swipe-clean bar across the screen to clear the image and starts drawing the next word on the list and so on.
The GUESSERS can "pass" on only two words per card. For each correct guess the team scores one point.
Once the timer has run out OR all the words are correctly guessed, the team records their score using the pegs and scoring holes on the frame then it is the other team's turn.
Winning – 30 or more is the winning score
Because a game can be won after playing 6 or 7 cards, the first team to play is more likely to be first to reach the winning score of 30 or more. To make it fair, both teams should have the same number of turns. So, when the first team to play scores 30 or more and the second team to play is within 6 points (a completely correct card score) of beating the first team, the second team has a final turn to see if they can catch up and win.