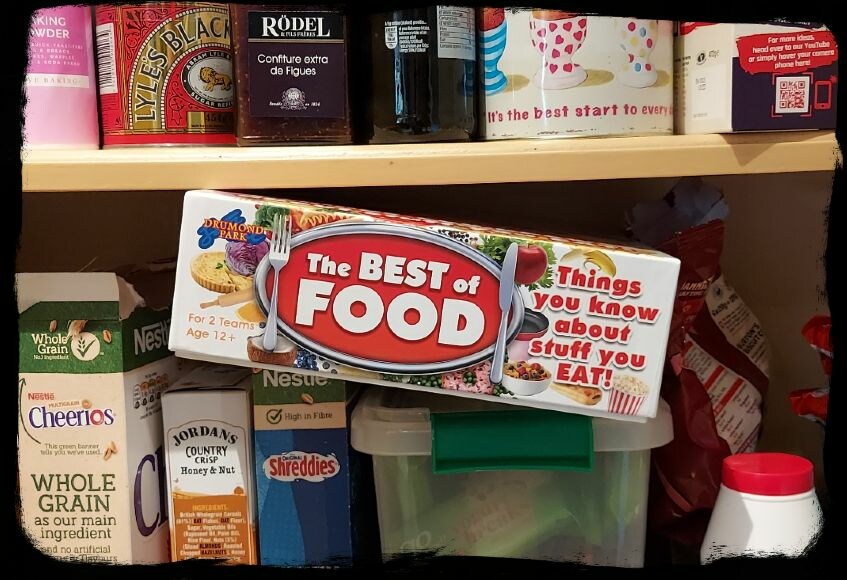 Serving Suggestion
September 16, 2020
Five dishes from LOGO - Best of Food!
It's in the shops!
Our tasty dish that LOGO board game fans everywhere have been licking their lips over; a mouth-watering banquet of full-flavoured trivia titbits… a veritable smorgasboardgame of… (etc.)
So what can you expect?
WELL! We have the classic LOGO gameplay for a start. And over a thousand questions in the much-loved LOGO style – puzzlers that'll not just keep the game ticking along, but that'll send you off into reminiscences, debates, good-natured arguments (and the occasional trip to the fridge).
You don't need to be a serious foodie to enjoy Best of Food. In fact, there's a marked lack of questions about rare varieties of Lebanese guava-bean. But if you know your pastas, pickles and pizza toppings; are partial to a pavlova, a pancake or the odd slice of pie; and can tell your Polos from your Rolos then this is the game for you.
This being LOGO, we go off at a few tangents also. So you might also discover Meat Loaf or the Black Eyed Peas; Lady Marmalade or Eggs Benedict Cumberbatch cropping up amidst the cheese and cocktails.
Buy it on Amazon here... or stick around for five trivia factlets about things in LOGO Best of Food – prompts for conversation to amaze your family and friends…
First recorded back in the early 1800's, this scrummy pudding also enjoyed the alluring name of (checks notes)… ahhh – 'Dead Man's Leg'. Which is appetising.

A smash hit for UB40 in the mid-eighties, the band recorded a cover of what they thought was an original vintage reggae classic, only to find that it had first been penned as an acoustic guitar ballad by Neil Diamond. In a further twist, Neil Diamond then went on to perform the song in a slightly awkward, UB40-like reggae arrangement at his own shows.
You'll have heard of the famous motorway interchange in the Midlands. But 'Spaghetti Junction' has now become a generic term worldwide, for any complicated road junction that is a bit – ahh – spaghetti-ey. So there are now spaghetti junctions all around the world. Except in Japan, where – with a hint of apocalyptic drama - such things are known as 'tentacle junctions'.
The Italian word we've adopted for a posh toasted sandwich. Charles Champion patented the first sandwich maker, the 'Tostwich' in 1925, having very possibly nicked the idea from the ancient Dutch invention of the waffle iron. Which had itself been filched by the Americans and patented a century earlier.

The Full English Breakfast!
Is also sometimes known as 'The Full Monty', after Field Marshall Montgomery, who reportedly started each day of his WW2 campaign with the most traditional and patriotic of full English fry-ups - even when he was soldiering thousands of miles overseas. We'll use the word 'reportedly' here, given that he was also, reportedly, a vegetarian.