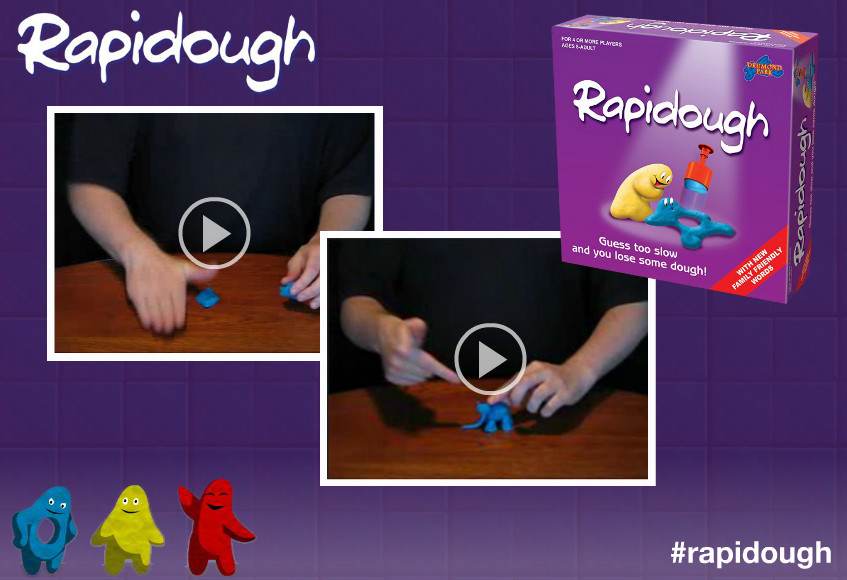 December 18, 2017
Your Rapidough tournament: hints and tips
For years, Rapidough has been one of the UK's biggest 'family-and-friends get-together' type games.
Especially at this time of year. A team game with no limit to the number of players, it's perfect Boxing Day/New Year's tournament material. Whether you're all together as a family for the first time in months, or simply breaking the ice with a bunch of new neighbours who you've dragged home from the pub.
A bit like its sister product Articulate!, every game is different; the questions don't age, and endless variety is provided by the players' individual modelling skills. Or lack of them.
If you're limbering up for an all-important Rapidough challenge this Christmas, here are three hints to give you the edge.
1) Take your time!
Rapidough isn't a timed game – it just feels that way! In the frenzy to get your model done, it's easy to believe that the opposition are leaps and bounds ahead… but they're probably panicking also, and a few seconds' thought followed by a bit of care and attention will play dividends.
Here, Igor - our professional Rapidough demonstrator – takes his time to create that most guessable of creatures: the Elephant.
2) Think in context.
A diamond is the challenge. How to demonstrate this? A diamond-shaped bit of clay *might* - er - cut it. Or it might just look like a square, or a splodge, or a flat blue thing. Whilst you point increasingly animatedly at it, furious at your team-mates' blank looks.
By taking a few more moments to put the diamond in context, Igor ensures that no mistakes are made.
3) Use mime.
Agree your house rules before you start playing! We can't stress this enough; a fierce disagreement, fisticuffs, followed by a long wait in A&E on New Year's Eve to get a pot of clay removed is never much fun.
As standard, we recommend allowing mime, actions and general motion (but never 'mouthing', or other underhand tricks). Which makes items like the sword very simple.
Over to you, Igor. It's a sword – it's honestly a sword.