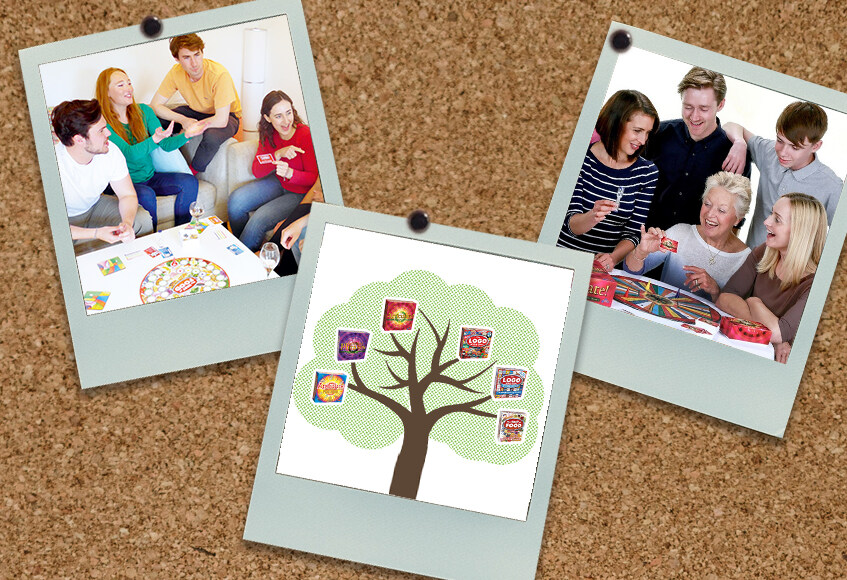 October 21, 2020
The Family Games Family of our Family Games
(In which we try to come up with the most confusing blog title possible.)
Hello! We're Drumond Park, and we tend to make family games.
Pretty well all our products are family games, in fact. Aside from the games that are very obviously just for the little ones (hello, Sam!) And Best of Christmas – Not for Kids. That one certainly isn't.
Thing is, our family games have spawned families of their own over the years. The LOGO family. The Articulate! family. Sister games, cousins… where do they all come from..?!
Well, the starting point is that the originals are seriously popular games.
Thing is, they're popular for a reason. Let's face it – there are a LOT of guessing games and trivia games out there… what makes Articulate! and LOGO so special? Why do we see battered, much-loved sets pulled out of the cupboard year after year for that Boxing Day gamesathon?
The answer to this longevity comes from the gameplay. We've written before about how much time we spend play-testing and perfecting before a product hits the shelves – we want to create great games that last, rather than pretty gifts that end up in the charity shop come January.
So clearly, having created a great formula, it makes sense to use it for other games. The sister-products that keep all the good things of the original, but that introduce their own twists.
Buyers like this: they know what they'll be getting – and know that it'll be the same great quality as the original.
An early-ish example was Articulate Your Life – a version of the classic 'Articulate' but with very slightly edgier and perhaps trickier topics. And Articulate for Kids – the junior version that completely integrates with the original. Articulate Phrases was new out last year and has been a smash with hard-core Articulaters; it's Articulate… but with phrases!
With LOGO, the 'themed' versions have proved very popular. Best of Food, Best of British, Best of TV & Movies etc… - they're all recognisably LOGO but take the game into individual topic areas that everybody can relate to.
Then there are the special Christmas-themed LOGOs, for festive fun at Secret-Santa type prices. And the two quick-play Articulates – Articulate Fame and Articulate Christmas – created as a flash of twenty-minute Articulating for those in a hurry.
Finally there are mini/travel versions available of lots of our games – perfect for your luggage (or your wedding reception).
The upshot is – if you're a fan of the originals, there is another game for you out there! Have a look through, read the reviews… and support your friendly local toy store!